---
Wednesday, June 10th, 2009
by Peter
---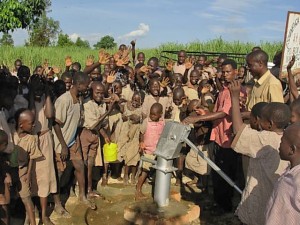 There's a new well at the Eshienga School in Western Kenya.
I don't know about you, but there's nothing better than seeing young students tossing clean water around in celebration of new found freedom.
These students no longer have to walk miles for dirty water. Instead, clean, safe drinking water is just steps away…thanks to students and individuals just like themselves.  Thank you on behalf of the Eshienga Primary School.
Who Helped?
Individual Donors:
Gift Date between: February 15, 2009 – March 8, 2009
Groups:
Queensland Downs School – Calgary, Alberta
Delta Sigma Theta Soroity, Inc. – Cincinnati,  OH
Ms. Sheib's Class, Park Springs Elementary – Coral Springs, FL
The Eshienga Primary School is located in the Esumeyia Sub-location in Kakamega District, about 14km from Kakamega.
This well serves 1084 students and a total of 1,386 people in the surrounding community.  Before construction began a local water committee of 6 men and 3 women was formed.  Together with the community they raised the $300USD required for geological surveys and permits.

[xmlgm {http://thewaterproject.org/kmz/eshienga.kmz} zoom=18]
Home
More Like This
---