---
Wednesday, July 22nd, 2009
by Peter
---
Update: Sept 14th, 2009
Construction has begun is complete on the Butenje Primary School Well
This community is located in the Shiambitsi  Sub. Location in Western Kenya, about 28km Kakamega.
GPS — LAT:00.322750N  LONG: 034.707120E
The water project will serves about 980 students and a total of 1,900 people in the surrounding area.  A water committee consisting of 6 men and 6 women has been formed and the community has contributed about $300USD to acquire surveys and permits for the new well.
The current previous water source is an unprotected spring about 7 km from the community.  The water quality is very poor.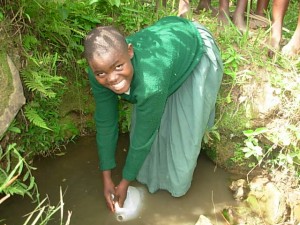 This well is being funded by:
Jeff & Lauren's Wedding Guests
A.G. Bell School – Chicago, IL
NYIT Bear Hug Club – New York, NY
Gifts made through GroundSpring.org in April 2009



[xmlgm {http://thewaterproject.org/kmz/butenje.kmz} zoom=18]
Home
More Like This
---