---
Wednesday, February 20th, 2013
by Peter
---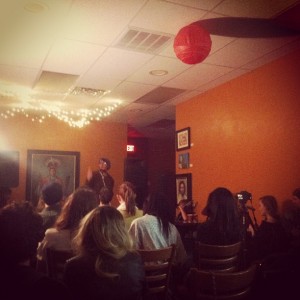 Last Monday, around 8pm I walked into a small coffee shop in Oklahoma City. Most nights "The Bean and Leaf" is a sleepy restaurant tucked between a liquor store and a closed down burger joint, but that night it was positively humming with activity.
The place was packed from wall to wall for Classen High School's "Wish Week" Open Mic Night. "Wish Week" is five beautiful days where the students of Classen come together and put on a variety of amazing events and crazy fundraisers to raise money for clean water.
Throughout the night there were songs, poems, and some really impressive art work all created by the students at Classen. To be honest, not all of it was "American Idol" perfect. It didn't have to be. There were plenty of wrong notes, miffed lyrics, and shaky hands delivering poems in public that were written in private. But the night was so much bigger than that, the things that brought us together more grand. Out of tune guitars were soon fixed and there was never an awkward silence that didn't receive a reassuring laugh and cheer from the crowd.
Last Monday, for about 3 hours, we were a family. What mattered was a cause that brought us together. Every piece of art, every stanza, every song (good and bad) was our way of dreaming up a new world together. A world where every one has access to something as simple, beautiful, and powerful as clean water. Our open mic night had become the overture for a symphony about to play out across the world.
By this Friday, the students of this small inner city high school are going to have raised their goal of $10,000. I won't be surprised if they beat it. Their power comes from a community who are beginning to realize their creative potential to do good in the world around them.
My hope is that you would join us in doing the same.
You can start your own Wish Week or other campaign too…
—
Ryan Groves
Wishing Well
Home
More Like This
---