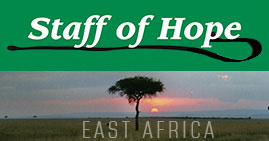 Staff of Hope's mission is to share hope by demonstrating God's love
through partnerships with communities of East Africa, empowering them to
meet their own spiritual, physical, educational and economic needs.
Since Staff of Hope was founded, a hand full of people have grown in
vision, uniting scores of churches, corporations, government officials
and others throughout the US and east Africa. SOH has partnered to
drill fresh water wells bringing water to thousands.
Staff of Hope is different than other organizations because their
primary focus is on relationships. They work side by side, sweating
together, not just to put up new buildings, but to cultivate neighbors,
people who really know and care for each other. Their teams eat at the
homes of their friends in east Africa, not as guests but truly as
family. This is not just a project to us - we are neighbors - family.