"My name is Sarah, and I have been married in this community for the last 12 years. The greatest challenge in this community is accessing safe, clean drinking water. I cannot count the number of times that I have had to take my children to the health center for treatment. At times, they are suffering from typhoid and other times bacteriological infection."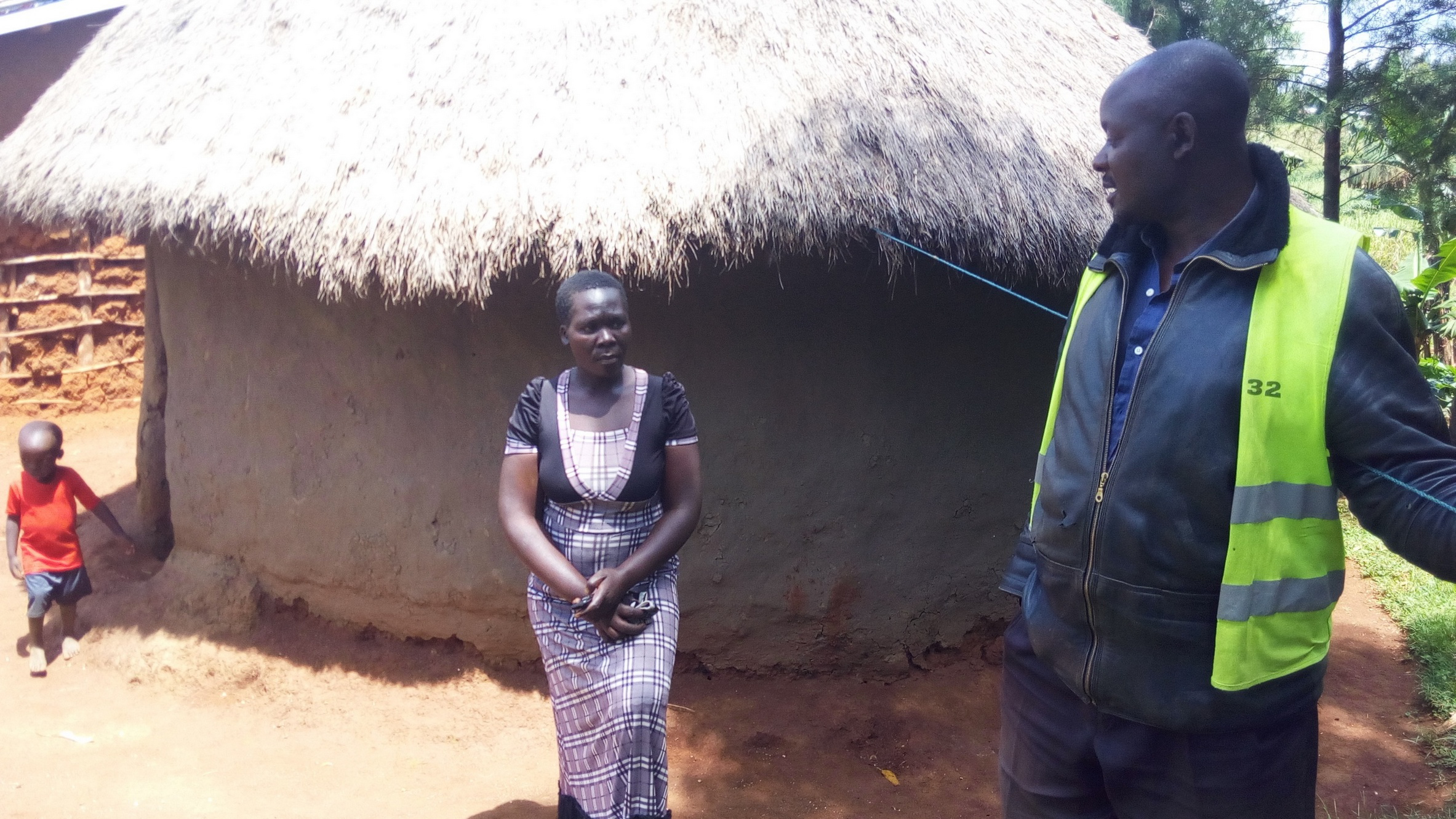 In Mbande Community, both the women and men are seen going down to the spring to fetch water. A person makes an average of 5-10 trips per day, depending on what their family needs to accomplish. There will be several trips on laundry day, and fewer when they just need to drink and cook. These water trips begin as early as 6am.
Most people farm and then sell their extra produce at the local market. Lots of farmers choose to specialize in sugarcane since there's a nearby sugar factory that buys it. Each morning after getting water, cleaning and taking breakfast, some of them have to travel to Malava Town for their jobs.
Water
The main source of water for Mbande Community is Handa Spring. The water is entirely open to the surrounding environment and gets particularly dirty after it rains. The water is always a cloudy color, which darkens are more and more people stir up the water as they dunk their containers to fill them. They submerge their jerrycans to dodge insects and other things floating on the surface.
The community uses this water to meet all of their needs, even drinking. They're constantly suffering from diarrhea, stomaches, and headaches. If they make it to a health clinic, they'll often find out it's typhoid.
Sanitation
Less than half of households have a pit latrine, most of which are old and full. Because so many households are still missing this important facility, they're using the bushes. There are no opportunities for handwashing, nor many helpful tools like dish racks or clotheslines.
Sarah Wamalwa is a 48-year-old housewife. She recounts the greatest challenge she has had to face each day regarding lack of proper sanitation.
"It's a shame that I have a latrine that is not in a very good state. I wish I had a toilet that is structurally good so that I can wash with water when it's dirty and also proudly show my visitors when they need to use the latrine," she said.
"My children fear falling in the latrine due to the big hole, hence they opt to use the banana plantations. When my in-laws come, I ask my neighbor so that they can use her toilet. But for how long will my good neighbor allow me to share her toilet?"
Here's what we're going to do about it:
Training
Community members will attend hygiene and sanitation training for at least two days. This training will ensure participants have the knowledge they need about healthy practices and their importance. The facilitator plans to use PHAST (Participatory Hygiene and Sanitation Transformation), CLTS (Community-Led Total Sanitation), ABCD (Asset-Based Community Development), group discussions, handouts, and demonstrations at the spring. One of the most important topics we plan to cover is the handling, storage, and treatment of water. Having a clean water source will be extremely helpful, but it is useless if water gets contaminated by the time it's consumed. Hand-washing will also be a big topic.
Training will also result in the formation of a committee that will oversee operations and maintenance at the spring. They will enforce proper behavior around the spring and delegate tasks that will help preserve the site, such as building a fence and digging proper drainage. The fence will keep out destructive animals, and the drainage will keep the area's mosquito population at a minimum.
Sanitation Platforms
On the final day of training, participants will select five families that should benefit from new latrine floors.
Training will also inform the community and selected families on what they need to contribute to make this project a success. They must mobilize locally available materials, such as bricks, clean sand, hardcore, and ballast. The five families chosen for sanitation platforms must prepare by sinking a pit for the sanitation platforms to be placed over. All community members must work together to make sure that accommodations and food are always provided for the work teams.
Spring Protection
Protecting the spring will ensure that the water is safe, adequate and secure. Construction will keep surface runoff and other contaminants out of the water. With the community's high involvement in the process, there should be a good sense of responsibility and ownership for the new clean water source.
Fetching water is predominantly a female role, done by both women and young girls. Protecting the spring and offering training and support will, therefore, help empower the female members of the community by giving them more time and efforts to engage and invest in income-generating activities.
---
This project is a part of our shared program with Western Water And Sanitation Forum (WEWASAFO). Our team is pleased to provide the reports for this project (edited for readability) thanks to the hard work of our friends in Kenya.