Most of the 512 people in Kriema Kiamp send their children to the cities to avoid a harsh life in the village. The children visit only during harvest time, when food is plentiful. For the rest of the year, life in Kriema Kiamp is hard.
In the center of Kriema Kiamp stands a broken well whose well pad is crumbling. When the community members called the organization that had installed the well for them to have it repaired, the organization charged a consultation fee, which the villagers saved for months to scrounge up. Then, the organization never showed. That was years ago—years in which the only source of water for Kriema Kiamp has been the hand-dug well in the swamp.
"One noticeable thing in the village is that men, women, and children look way older than their actual age," said Zainab Kuyateh, a 30-year-old farmer and petty trader. "Working in the farm from sun-up to sundown has that effect on people. Most of them have [become so] used to the hard labor that the day they are not involved in any strenuous activity, they fall ill."
"As a teenager, I now have the responsibility of making monetary contributions to the day-to-day running of the household," said 16-year-old Sulaiman S. "If there is no money to give, I have to help at the farm. Fetching water is also my responsibility."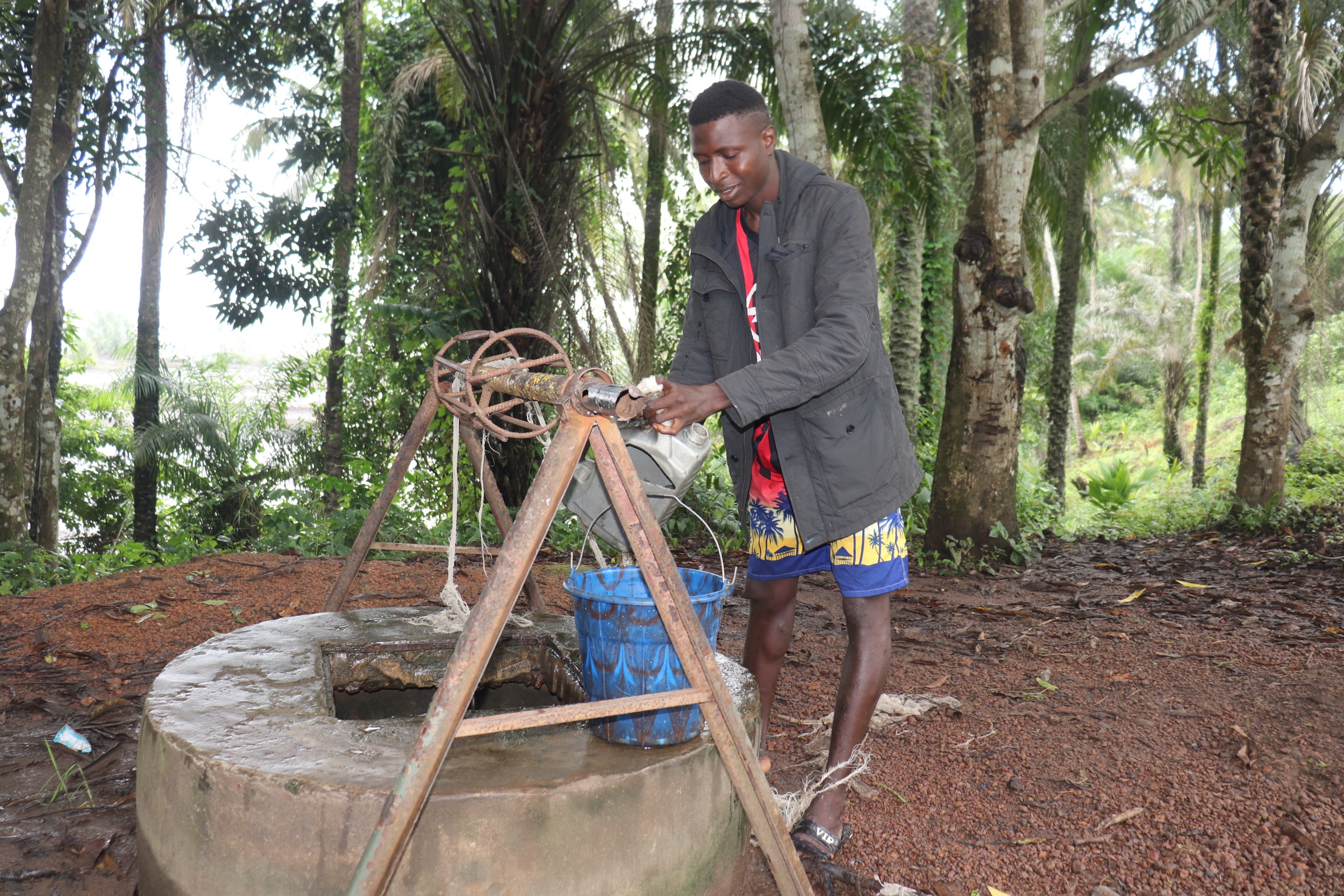 "I have long since dropped out of school," Sulaiman continued. "If I had to go to the well to fetch water, there [would] be no way I could make it in time. I am more needed around the house."
When asked about the water, Sulaiman explained that a lot of the adults in his village still blame most health problems on witchcraft. There is also a lot of superstition: no one in Kriema Kiamp is allowed to say the word "cholera" for fear that speaking the word will bring the disease back.
"Most of the children in the village are covered with rashes from the water they use to bathe," Sulaiman said. "I always have a runny stomach from the water that we drink."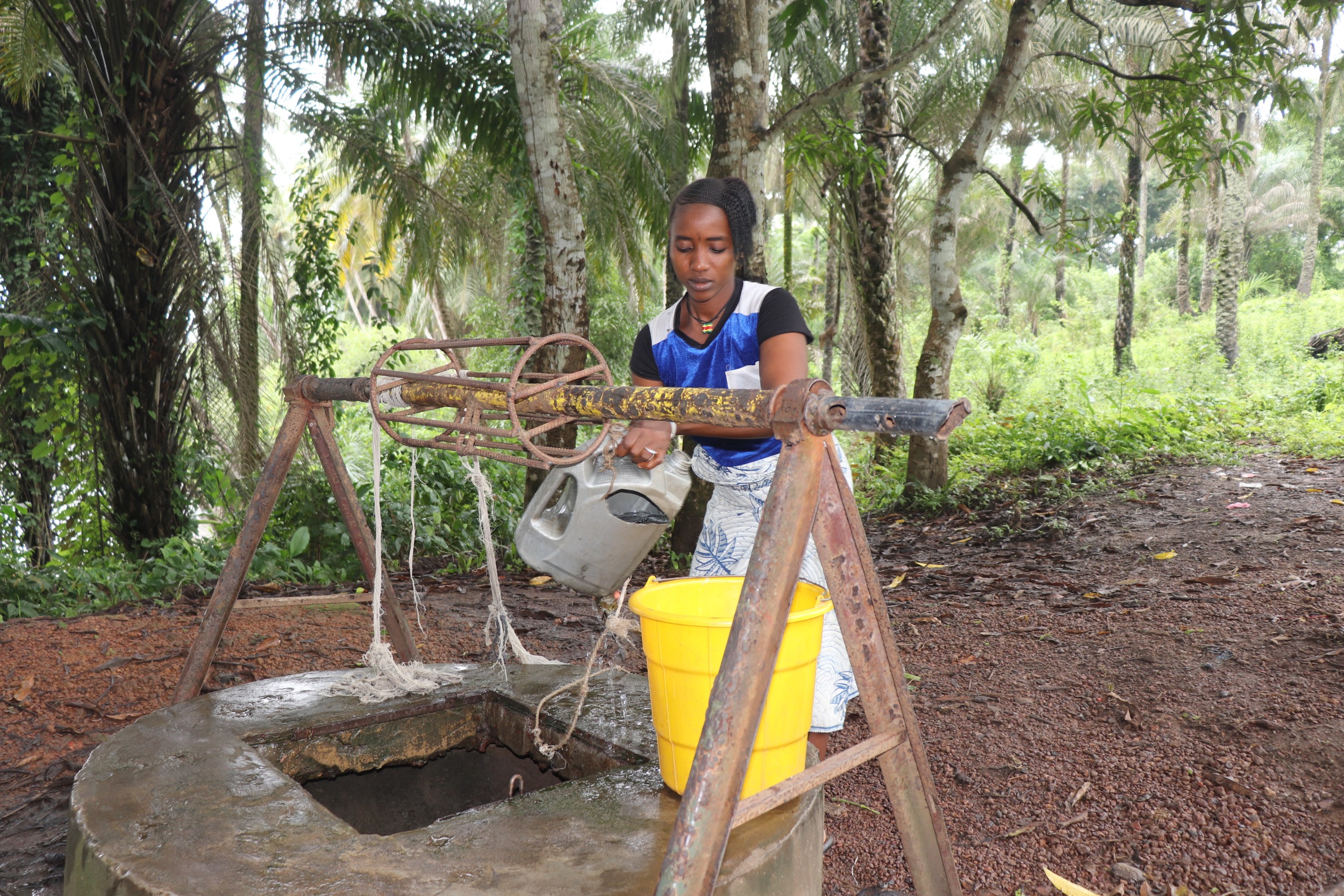 The water quality of the current main water source is pathetic. Looking down into the gaping hole of the well, you can see tree branches, fallen leaves and debris, worms, and cockroaches, just to name a few that are visible to the naked eye.
Children happily drink the water, faces smiling up at me. I could not help but ask myself, with tears running down my cheeks, why is this still happening? No wonder infant mortality is so high in Sierra Leone.
But the community members' health isn't the only thing suffering. Zainab explained that a reliable source of water would also provide her with more income. "I depend on [the] harvesting of palm kernel to produce palm oil, but most of the palm kernel will not be harvested because there is no sufficient water to do such a job. Harvesting palm oil requires the use of a large amount of water. With no source for such water, [my] livelihood income takes another negative hit, which, in turn, will translate to increased poverty."
A working well will alleviate the people of Kriema Kiamp's health concerns and provide them with a hand up out of the poverty that has kept them unhealthy and made them send their children away for most of the year.
What we can do:
New Well
Where we will be drilling is centrally located and will relieve many people of the long journey to fetch water and the challenge of accessing clean water.
Our team will drive over the LS200 mud rotary drill rig and set up camp for a couple of nights. Once the well is drilled to a sufficient water column, it will be cased, developed, and then tested. If these tests are positive, our mechanics will install a new India Mark II pump.
By drilling this borehole, TKKK and the surrounding community will be provided with plenty of accessible, clean drinking water.
Training
There will be hygiene and sanitation training sessions offered for three days in a row.
Community members will learn how to make a hands-free handwashing station called the "tippy-tap." We will use these tippy taps for handwashing demonstrations and will also teach about other tools like dish racks and the importance of properly penning in animals. We will highlight the need to keep restrooms clean, among many other topics.
This training will also strengthen a water user committee that will manage and maintain this new well. They will enforce proper behavior and report to us whenever they need our help in solving a serious problem, like a pump breakdown.