Yourika village has a well, but it's dry from April to July each year. When the well does work without drying, its product is still questionable since the water was last tested and treated in 2015.
During the dry season, the 449 people of Yourika get water from the only source available to them, which is a nearby swamp. Even then, the water they're able to scoop up is often cloudy and muddy even after hours of sieving.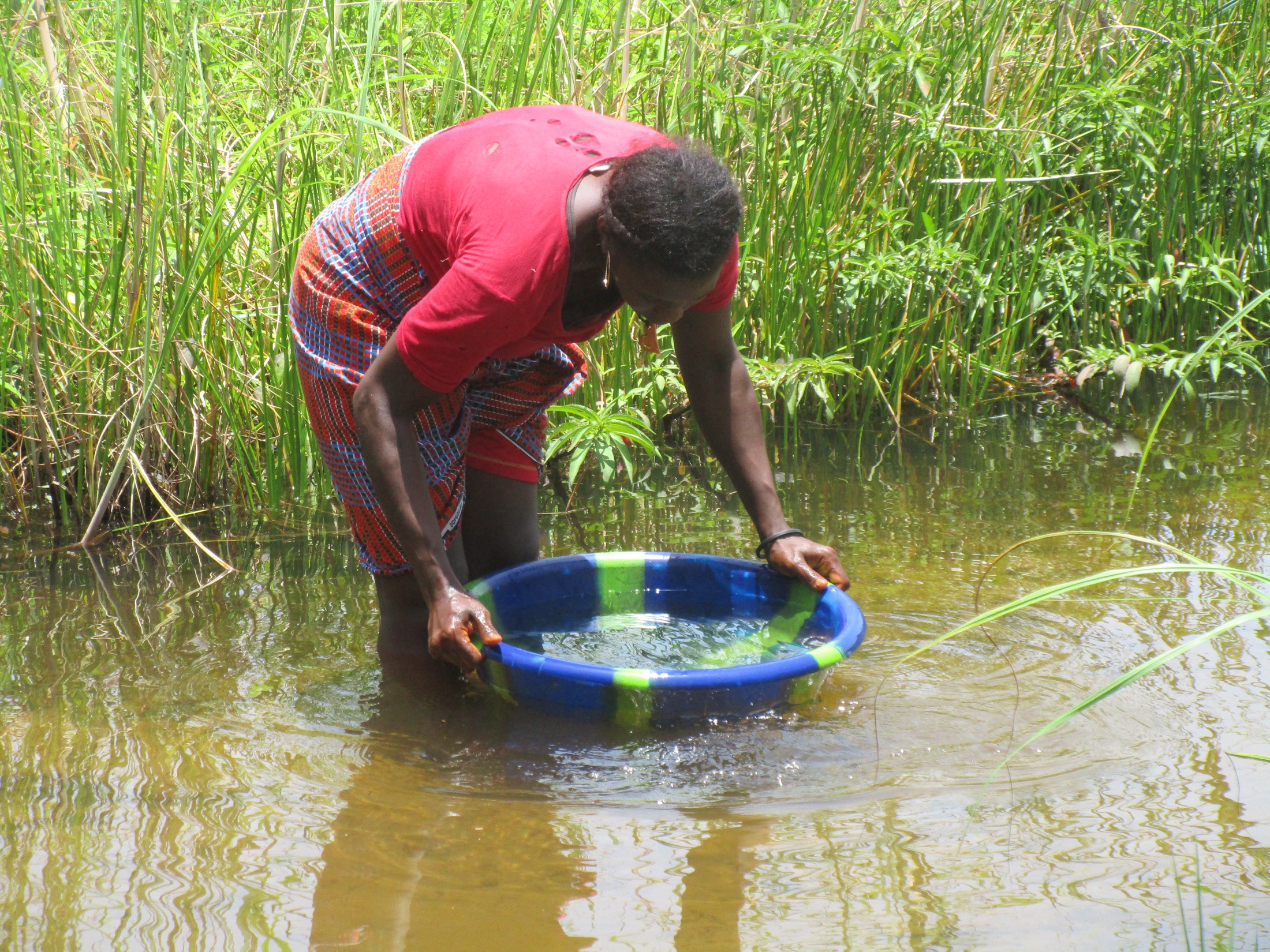 With such limited water options, waterborne illness is a given for everyone in Yourika, though the people most affected are children and the elderly, whose immune systems are weaker. The complaints were varied and widespread: typhoid, dysentery, cholera, worms/parasites, and even skin rashes.
But the community members are used to constant illness. So what they told us most about was the perilous journey to the swamp.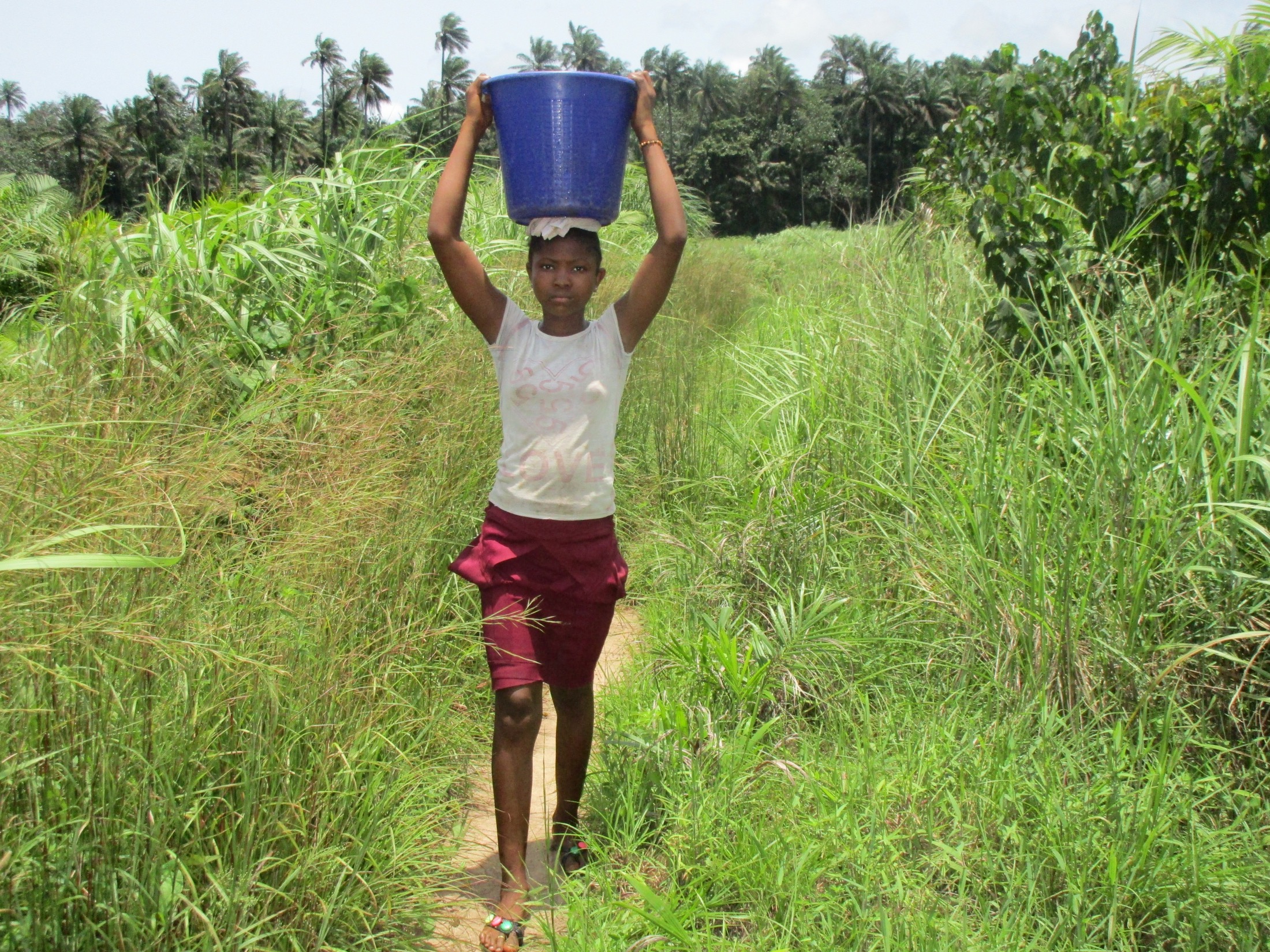 "The bushy footpath scares everyone and reduces the amount of people that go down there," said 13-year-old Aminatu K (pictured above). "It is difficult to explain, but I can assure you that anyone that goes there never comes back without breaking into a heavy sweat. Not only is the road bad, but it is also far. Imagine balancing a heavy container on your head while trying to look at the road ahead and paying attention to every bird or sound you hear. I once saw a snake on my way back from the swamp which made me very afraid."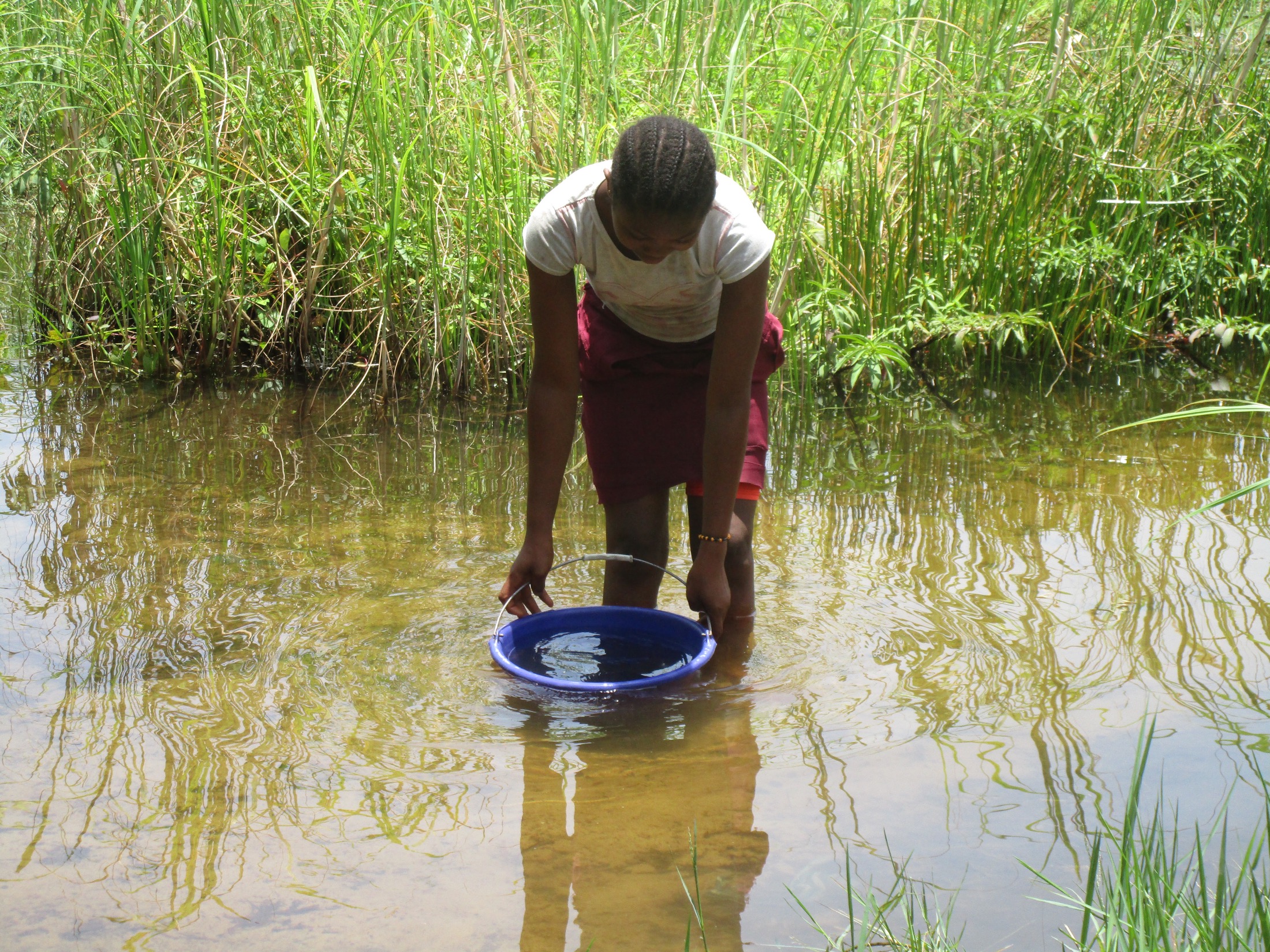 "Growing up in the village has taught me to recognize sounds of distress or danger made by birds and other animals," Aminatu explained. "My favorite is the noises made by monkeys. The loud aggressive sounds tell you there is danger ahead. [This] will be immediately followed with loud singing by us to also let the person or danger know we are plenty and not afraid."
"As a woman, my use for water exceeds the need by a man," said Mariama Kamara, a 27-year-old trader. "I am responsible for making sure there is enough water at the home before I leave to sell my business."
"I bathe at the swamp to avoid using water brought back at the home," Mariama continued. "It is a risky behavior which my husband has warned against. I clearly see his point, because there are always different men that come to our village for one thing or another and a naked woman to some is an invitation for unwanted sexual advances. To avoid putting myself in danger, I always look for a group of women that come along with me to the swamp to prevent any chances of being attacked."
With a reliable well within the community itself, Aminatu and Mariama won't have to worry about being attacked while accomplishing their daily tasks. They and their loved ones will live easier, healthier lives drinking water free from waterborne diseases.
Here's what we're going to do about it:
Well Rehabilitation
The well marked for this overhaul is dry for a few months every year and needs major work to supply adequate, clean water to the community year round. The pump will be removed, and a hand auger will be lowered inside and powered by a drill team. This hand auger will allow the team to drill several meters deeper to hit a sufficient water column that will ensure the well supplies water throughout all seasons.
As the team drills, casing will be installed, transforming the bottom of this hand-dug well into a borehole. PVC piping will connect this lower system directly to the pump, a construction that we know will also improve the quality of water.
Once this plan is implemented, everyone within the community will have access to safe drinking water in both quality and quantity, even through the dry months.
Hygiene and Sanitation Training
There will be hygiene and sanitation training sessions offered for three days in a row.
After our visit, the hygiene and sanitation trainer decided it would be best to teach community members how to build a tippy tap (a hand-washing station built with a jerrycan, string, and sticks). They will use these tippy taps for handwashing demonstrations, and will also teach about other tools like dish racks and the importance of properly penning in animals.
These trainings will also strengthen the water user committee that manages and maintains this well. They enforce proper behavior and report to us whenever they need our help solving a serious problem, like a pump breakdown.