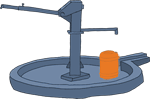 Through your support we invest in proven partners who are drilling fresh water wells and other water projects providing sanitation and hygiene training and constructing other sustainable water projects.
We show every donor the specific impact of their gifts through photos, short stories and GPS map coordinates of every project.
We follow up, monitor and evaluate the projects you support to help ensure our shared work has a long-term impact.
We believe that every supporter can be part of the story of water by learning, acting, giving and then seeing the difference they make.
We're looking for willing hands...are you ready?