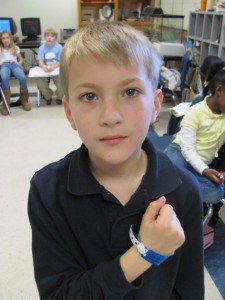 Winn Murray is an 8 year old boy in Macon, Georgia who is changing lives … not only in Africa where his fund raising efforts will bring clean water, but right in his home town.  In fact, Winn's simple but bold act of caring has inspired  7 more schools in Macon to get involved.  In fact to date, we've sent out over 1,000 wristbands that proclaim "I'm Giving Water!" to these schools … wrist bands just like Winn and his classmates wore in early March when they carried water for a day to raise awareness and support for clean water.
You can support Winn's Fundraiser here »
Michelle Gowan, Winn's REACH teacher, shared with us, "This year, our curriculum focus has been infusing technology into our discussions of scarcity of food, energy and water around the world. When we studied the inequitable distribution of resources around the world, my class decided to purchase a goat to send to an African family. They collected about $130 by doing extra chores and we donated the goat through World Vision. When I began my lessons on water, I really had no intention of building a well because it was difficult enough for us to get enough to buy a goat!"  But Mrs. Gowan wasn't counting on Winn!  He decided to do something.  The issues of unclean water resonated with him, and he started his own hometown revolution.
Continue Reading »