Bridge Water Project
Our water, sanitation and health program (WaSH) with Bridge Water Project is geographically focused within Kakemega County and works with communities, schools and health centers that have a demonstrable plan in place for stewardship of water points.
Where there is no previous or current option for safe water access, boreholes are drilled. Where previous boreholes are found to be nonfunctional, wells are rehabilitated. Hygiene and sanitation training are a foundational part of our program, and was a key focus of our ongoing equipping and training with Bridge Water Project. In 2014, we helped add more hygiene and sanitation staff, provided ongoing training on community engagement and training, proposal and report writing, and helped the program roll-out a Monitoring Evaluation and Resolution program through circuit riders – teams that systematically revisit all past projects and work to resolve issues they find.
With the rollout of this program, our focus expanded from water delivery, to water as an ongoing service. Everything that is true about safe water requires that safe water be reliable, and ongoing. This deepening of our partnership means greater stewardship of and reporting on your investment with The Water Project.
Africa Sand Dam Foundation
Focused within Southeastern Kenya, our WaSH program with Africa Sand Dam Foundation deepened considerably in 2014. Your partnership allowed us to invest more deeply in Self Help Groups through sand dams and shallow well projects. Areas once stunted from the effects of drought and climate change are now beginning to thrive again with climate-smart farming.
Communities are already beginning to experience a profit from farming and better health from safe water access, and we look forward to continuing to see impact through our five-year program cycle with each community. With your help we also provided on-site water access at schools through the construction of large rainwater catchment systems.
We're not sure what is a more thrilling sight: seeing sand dams restore water tables and enable farmers to thrive, or beautiful hand-washing stations throughout the schools we worked in!
We are inspired by our work with Africa Sand Dam Foundation. In 2014 we staffed ASDF's first Hygiene and Sanitation Coordinator and helped encourage systematic water testing and re-testing at project sites.
Pamoja Trust
In 2014, our previous Urban Water Kiosk work in Mombasa expanded to include piped water systems, with post paid meters, in urban Mashimoni. Rather than work on their own, Pamoja Trust chose to do it the right way, work closely with public and private entities - including Nairobi Water. Pipe was laid, and water began to flow - and then new management took over the project in Nairobi Water. Unfortunately, terms of our agreement with Nairobi Water did not carry through new management, and the meters installed and self-managed by the community were removed. Water continues to flow, but metering has ceased, interrupting the original deliverables and intention of this program. Currently, this program is on hold. More advocacy is needed to unify local government, private businesses, the community and Nairobi Water towards the common purpose of affordable, accessible water in this urban area.
This is the hard work of water development. While issues like this are certainly not the norm, we are thankful for transparent partners and our donors who remain steadfast, allowing us to share the challenges as well as the successes.
Western Water and Sanitation Forum
After a successful pilot at the end of 2013, The Water Project and Western Water and Sanitation Forum formally partnered in early 2014. We were immediately impressed with mature organizational leadership and the promotion of women as leaders of WaSH program implementation. Our program continues to be geographically focused in Kakemega and works through established community Self Help Groups towards protection of springs and village level sanitation solutions. Additionally, we partner with neighboring schools by providing rainwater catchment systems and improved VIP latrines.
We are proud of our partnership, and proud of what this program means for served communities. We were continually inspired and amazed at community response during scheduled and unscheduled site visits throughout the year. Communities are proud of what they have accomplished, and you should be as well.
TWP has been working through Living Water International (LWI) in Rwanda for over two years. This maturing program has most recently been concentrating on the development of better models of monitoring and evaluation, determining the right manner and method to measure the long term effectiveness of the water source interventions we fund there.
Keeping tabs on former water projects is really the easy part though. The challenges arise, here and in every community we serve, in balancing responsibilities of the local implementer and the water user committees. When projects fail, do we "bail out" a community that was unwilling or unable to save for well repairs, as they agreed to? If yes, will that create unhealthy dependencies? This is but one example of tough questions without easy answers. We're working closely with our partners to address them and then share what we learn across our program.
We're looking forward to some innovative monitoring pilot programs in Rwanda in the coming year.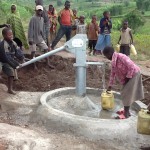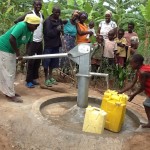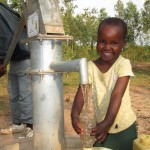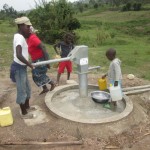 Living Water International
LWI's program is quite mature in Uganda and we use this partnership as a measure for many others. From the robust data collection taking place, to the reporting we receive, we're able to regularly measure the community level impact of this work to determine if such detailed tracking and evaluation pays off in long-term sustainability and community ownership. These are important questions. The investment is substantial and we're hopeful the return will be as well.
The Water Trust
Through our support, our other partner in Uganda, The Water Trust, continued implementations in central Uganda and was also able to significantly expand their excellent work into a second region, near Jinga, in 2014. The Water Trust continues to be a leading partner in community engagement and training. Their unique approaches are being shared with our other partners as they too have shown, through careful reporting, that their impact is significant and lasting.